Our forum and chat room allow us to talk to our members here about their specific situations, as well as general issues relating to infidelity.
One of our forum members recently posted what they have learned about  reconciliation and how they now view their approach to post-affair recovery - I've reproduced my part in that discussion here for the general readership.
Your Inner Fix-It Pixie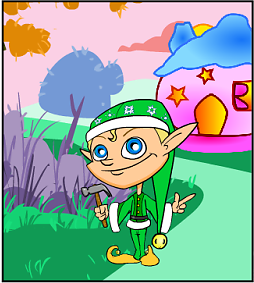 I would say this to ANY faithful spouse who is trying to be a good little post-affair soldier for their marriage:
It's so tempting to dive in as the Magical Reconciliation Pixie, bravely trying to manage or parent a cheater who says that they want the marriage to survive their affair.
It's sooooo tempting because the faithful spouse also wants the marriage to survive, so they engage their Inner Fix-It Pixie and go about the business of Maximizing The Likelihood. And it makes sense, right? It makes TOTAL sense if you want it to work and they want it to work that you do all you can to help that happen … right?
So what does the work of The Magical Reconciliation Pixie look like?
The Magical Reconciliation Pixie

leads the way to marital therapy, and encourages the cheater to attend.

The Magical Reconciliation Pixie

joins infidelity support groups and learns all about infidelity and marital recovery.

The Magical Reconciliation Pixie

 implements the strategies they learned about from their research.

The Magical Reconciliation Pixie

 directs the cheater to resources, books, and therapy.

The Magical Reconciliation Pixie

 insists on transparency to rebuild trust.

The Magical Reconciliation Pixie

 finds marital repair programs and retreats learn improved communication and how to rekindle love.

The Magical Reconciliation Pixie

 lays out their minimum expectations for the cheater's new behaviors.

The Magical Reconciliation Pixie

 seeks individual counseling to help deal with the emotional stress of the cheater's choices

The Magical Reconciliation Pixie

 embarks on a program of self-improvement.

The Magical Reconciliation Pixie

 identifies new 'togetherness' activities and events and vacations.

The Magical Reconciliation Pixie

rolls up their sleeves and starts to fix the broken cheater.

The Magical Reconciliation Pixie

 …. Well, you get the point, I'm sure.
So what's the common denominator? I know - I'm really not subtle am I? 😀  The Magical Reconciliation Pixie is a very busy pixie indeed.
The Affair Ogre vs The Magical Reconciliation Pixie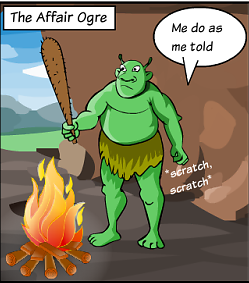 So while The Magical Reconciliation Pixie is doing all of this Maximizing The Likelihood, what is the Affair Ogre doing exactly? Well, most turn up when they are told, hand over passwords etc when told, and read what they're told. In fact, they often end up doing just that: doing as they're told.
Now, fast forward a few months:
1. The faithful spouse starts to get this nasty gnawing feeling that the Affair Ogre doesn't really 'get it'.
Well, they never had to 'get it' - they just had to turn up to therapy and make the right noises, helpfully provided by the perky therapist person, pat pat patting you poor little unable-to-make-life-work-without-guidance sorts.
2. The faithful spouse starts to feel taken for granted and that they worked harder to provide the impetus for repair.
Well, yes - The Magical Reconciliation Pixie managed the Ogre into everything that was 'required' of them in order that the faithful spouse would continue to grace them with their presence in the marriage.
In fact, often the Ogre thinks, "What the hell? I did everything you said I had to do and you're STILL not fucking happy? This shit will never go away will it? I may as well go out and cheat again because nothing I do is ever good enough …".
3. The faithful spouse feels cheated out of the grand gesture, the demonstration of commitment to making it work, the reassurance that the Ogre really loves them, that they put them first in all things, that they were thoughtful, aware, and insightful about how to repair what they broke.
Unfortunately, The Magical Reconciliation Pixie hadn't thought about that while they were being super busy unleashing their Inner Fix-It. Their entire focus was Maximizing The Likelihood and they didn't see how it could possibly go wrong. The Ogre wanted to keep the marriage, the faithful spouse wanted to keep the marriage - how could helping it along be a bad thing?
4. In a few months time, the levels of dissatisfaction on both sides are super high.
The cycle begins: Push-me, pull-me. Good times, bad times. Bring it up, bury the body. Your change, their stagnation.
Authentic Reconciliation
It's worth taking a few moments to truly examine your real intent. Is your intent in reconciling, to be in a marriage with:
Someone who wants to be there with you?
Someone who owns their own shit?
Someone who wants to grow, and change their thinking and behavior?
Someone who wants to repair the damage and spend time making it up to you?
Someone who wants to do all of this because they WANT to do it, not because they're scared of the financial repercussions of NOT doing it?
Someone who took the initiative towards recovery and resolution, and to genuinely and meaningfully address the shitstorm they invited into the marriage?
If that is your real intent, then why are you doing everything in your power to road block it???
Why are you taking the lead, stealing the opportunity to drive repair, and racing ahead to claim the initiative in getting help? Why are you parenting, managing, and control freaking your way to your own unhappiness in a few months time?
Maximizing the Likelihood
Seriously. Stop it.
Your cheater is a grown up. They are perfectly capable of doing their own research, finding and joining their own support forums, attending a support group, booking their own therapist, finding their own feet in marital recovery, and ordering their own damn reading material!
If you stop parenting and managing and the Ogre does nothing, that tells you EVERYTHING you need to know. Being The Magical Reconciliation Pixie is robbing you of valuable information about their intent and thinking. If an Affair Ogre is not actively leading the reconciliation charge, what evidence is there of their genuine desire to make amends?
And maybe that's your fear - that if you do nothing, they will do nothing and then you will have to act (maybe by leaving)? Maybe you are fearful that if the Ogre doesn't change and you choose to stay anyway, you give up all claim to being a victim of their choices and instead have to be responsible for the consequences of your own? Perhaps if you see the truth of the Ogre and still stay in unhappiness and disappointment, you give up the right to complain about your situation?
Examine your own motives folks … and try to fast forward to what the end game might look like. Your Inner Fix It could well be building-in your own failure, by your zeal to Maximize The Likelihood.