What Do You Get a Cheater for Christmas?
However much that sounds like the opening line of a very bad joke, when your significant other is a cheater it can feel as if the seasonal festivities have been specifically created to lure you into a booby-trapped tangle of tinsel and nightmares.
Navigating special occasions, birthdays, and family events and traditions can be a minefield at the best of times, but when your life has been detonated by the discovery of an affair, Christmas is a particularly difficult time. The holidays seem forever spoiled, but unavoidably destined to pop up annually to rub your (red) nose in it.
Being surrounded by holiday cheer, tidings of comfort and joy, and picture-perfect depictions of happy families can leave you feeling alone, devastated, and unable to escape from it all. The added pressure of gift-giving can result in a dilemma about whether or not to buy gifts for a spouse/partner who is having an affair. The question is understandably layered with a number of concerns about giving your cheater a gift, and tussling with it can leave you feeling confused and anxious, particularly when you are desperately hoping that a) they will end their affair and b) you will reconcile.
Some of the most common worries fall into the following thinking:
Not wanting to 'drive' the cheater further into the affair by not getting a gift.
Giving a gift to avoid any unpleasantness that might otherwise result.
Trying to remain as an attractive, loving option for the cheater.
Managing appearances - what would kids/family (and the cheater) think if the cheater didn't have a gift to open.
Managing gifts 'from the kids' that you historically buy on their behalf.
But I love them!
Gift It or Grinch It?
My answer to these concerns is quite simple: I don't recommend giving your cheater a gift because it raises issues of reward, pretense, manipulative intent, and scrambling. I would advise that you avoid complicating your situation in this way, however much you're inclined to rationalize why you're so determined to play Happy Holidays, and here's why:
A cheater who is planning to leave you for their affair partner won't be dissuaded by a gift.
A cheater who genuinely intends to stay in the marriage won't be 'pushed' into leaving by a lack of a gift due to their infidelity.
For those of you who are clinging to the Gift-Giving-Defense of, "What if they are confused and havent decided yet?" They have decided and they decided to have 'both' for as long as they can get away with it. Your gift will simply serve to help make that decision very comfortable for them.

However, I do understand that Pixies are particularly prone to wanting to shower their cheater with lovingly selected and beautifully wrapped gifts. That inner Pixie flutters around, seeing glitter as Pixie Dust, feeling an affinity with Santa's Little Helpers (the outfit gives it away hehe), and avoids seeing any analogy whatsoever between trying to smooth the creases in the wrapping paper and trying to smooth over a cheater's fuckery.
If this is you, please at least resist the temptation to top off that expertly wrapped gift with an Everything's Awesome! bow as you sniff back the tears and slap a fake smile on your face - it's not worth it, and it won't be achieving what you hope it will achieve.
Getting Your Infidelity-Santa On
For those looking for some inspiration in finding the perfect balance of jolly gift-giving and authentic expression of distaste for infidelity, I have a few suggestions for you:
1. Pixie Dust Surprise!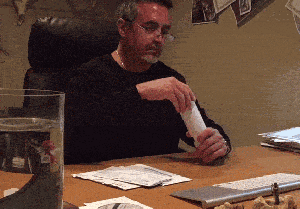 Because it's festive and glitter makes people happy? See how happy this guy is to receive something so thoughtful and cheery?
And for those of you who like your gifts to have some degree of longevity, rest assured that Pixie Dust has a knack of getting everywhere. They'll be clearing it up in July! Surprise! How totally cool of you to get them something so thoughtful!
Caution: Ensure that this Pixie Dust Surprise isn't opened anywhere near you, your home, your car, your clothes, your pets etc (okay, fine, some skeptics might call this surprise a spring-loaded glitter bomb). Perhaps this is a gift better suited for a cheater in an exit affair … after they've 'exited' to someone else's house and there's no risk of their glitter laden laundry returning to your house?
My other caution: Beware reciprocal cylindrical packages arriving at your own front door!
2. Stocking O'Crap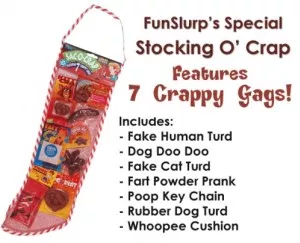 Socks are, of course, a traditional gift so while a stocking would be perfect hanging from the mantelpiece, a stocking of this particular type of Christmas jolliness miiiight break a little with tradition.
But heck, you're a modern, free thinking, jolly kind of Faithful Santa so this is totally your kind of thing. And since your cheater has quite happily made your Christmas so crappy, I am sure that they will appreciate the care and intent with which you returned the favor!
3. Festive Tee
Aka an Affair Partner Geolocation Device?
Oh, the festivitees when they receive this amusingly seasonal gift! (See what I did there? 😀 )
Perhaps, as a special touch, you could use a Sharpie to lovingly scrawl an answer at the bottom? Because nothing says effort and care quite like a handmade gift at Christmastime.
Time to open your Etsy store in the New Year, maybe?
4. Hand Sanitizer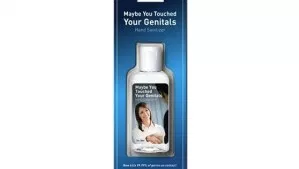 Nobody wants to get sick over Christmas!
This thoughtful and practical gift can help ensure that your cheater doesn't inadvertently pass some nastiness along with the mashed potatoes at the festive dinner! What a downer that would be - cheater jollies would be ruined, and that's wholly unacceptable (to cheaters).
Since you're all about comfort, joy, caring, and protecting public health, maybe your cheater could be encouraged to use this after they've touched someone else's genitals too? In fact … it might be worth them just cutting to the chase and slathering this stuff over any genitals in question (or any questionable genitals, if there is a difference?). I know, there might not be enough in this bottle - make this Christmas a Buy-in-Bulk Christmas!
After gifting in bulk, your cheater could hardly then accuse you of being a miserly Grinch! But if they persist, pat yourself on the back and consider their complaints as the crescendo of your odious opus!
5. Five Goooooold Riiiings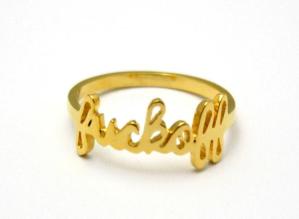 You know, just in case one of these wistfully designed rings doesn't adequately convey the depth and authenticity of your sentiments.
This gold ring would make a lovely addition to their cheater-collection of Ladies Dancing or Lords-a-Leaping! Though, yes, they might allllllso have collected some Genitals-a-Dripping … More surprises for Christmas?!
On the thirteenth day of Christmas, my ex did give to meeeee … some extra strength sanitizer and some hardcore antibiotics?
6. Wedding Ring Coffin
Since we're doing rings, what about re-gifting your old gold ring to the person who bought it for you?
This beautifully polished mahogany box is a unique and special way to securely back-gift your ring. The plaque allows the poignant expression of your sentiments. What better way to present such a generous gift of gold? It brings a new meaning to Boxing Day.
On second thoughts, you might want to cremate melt down that ring, or sell it and buy something more useful - I can recommend the hand sanitizer.
After all, you could still buy them a little mahogany box for their own ex ring, since it's such a delightful Christmas gift.
7. Fire Extinguisher
Teller of Untruths, thy winter trousers hath combusted!
Or at least, according to the Ghosts of Christmas-Present and Christmas-Future, there is a strong possibility that they might, so how fortuitous and considerate of you to procure for them the device that shall rescue them from their combustible state?
Scrooge! a squeezing, wrenching, grasping, scraping, clutching, covetous, old sinner! Hard and sharp as flint, from which no steel had ever struck out generous fire;

Charles Dickens, A Christmas Carol
8. Naughty Coal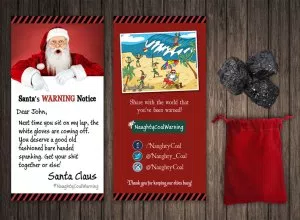 He's making his list, he's checking it twice …
Coal.
Well deserved, oh cheater, well deserved.
And it comes with a warning from Santa, who is still taking orders for Christmas delivery at the time of publishing this post.
Very Serious Stuff Indeed.
9. 'Unty' Coffee Mug
The 'Unty' mug.
Yep. Lots of Untyness out there to memorialize during the season of loving and giving.
Now, while I may not be entirely sure what an 'Unty' is ( 😉 ), I am super definitely positively 100% sure that you will have in mind the peeeeeerfect recipient for this quirky Unty mug.
You're such a talented and generous gift-giver!
Ho, ho, ho, Meeeeerrry Christmas!
10. Bag of Dicks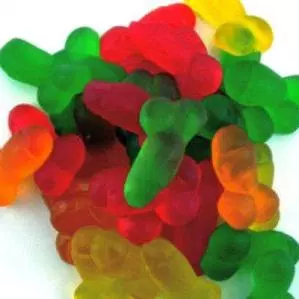 Who doesn't like to treat themselves at Christmas by indulging in sweets and candies?
These festively colored gummies make an excellent stocking stuffer, and if you want spread more Christmas cheer with this gift, there is a choice of optional extras (e.g. a big gummy, confetti etc). All of this bundled up with a sweet, loving note: Eat a Bag of Dicks
With the expression of such an authentic and touching sentiment, your cheater will simply love this gift from you.
And for those of you who prefer to keep their generosity under wraps and be a Secret Santa, there are options to send this anonymously. Though, I do wonder how anyone could resist taking full credit for such awesomeness!
11. Ship a Dick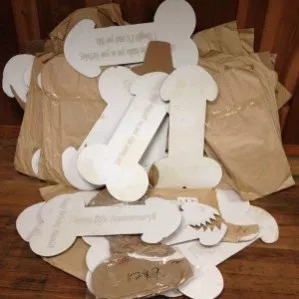 For those of you who might like the idea of the Bag of Dicks but don't want to give your cheater something so umm … edible, you might find Ship a Dick a decent alternative.
This is a personal favorite of mine, and is best described using the website's own words:
Mystery Dick!
We have a bunch of random unclaimed dicks clogging the walkways here in the dick factory. Help us clear things out while helping yourself to a previously loved dick. Our cheapest phalli, the Mystery Dicks are unclaimed dicks that have been rejected by the postal system. Some have already been to France and back. This dick could say anything on it, and we can't tell you what (if anything) it says. It might say "Move out" or "Cut your hair, you robofryin' hippy" or it might be a Turdicken. Often they are a little banged up from all the traveling, so don't get your hopes up on receiving a perfect dick. It's like a choose your own adventure, except you don't get to choose.
One Dick will be shipped per Mystery Dick order. The order may consist of any product we offer from a full sized dick to a glitter dick, or even a bag of dicks. It's all up to the drunken intern and their choice on what to pick from the pile.
Don't Let Christmas Stress You Out
It's easy to build the issue of a Christmas gift into one of significance and importance to your future with your cheater, pivotal even, but it really isn't. Honestly.
If you're finding it all too much, take a deep breath and a glug of something festive, and reach out to someone you trust and who cares for you. Lean on people who want what's best for you. Don't tie yourself in knots over something as insignificant as getting your cheater a gift. If they can't see the gift that's right in front of them in you, it puts material gifts into some perspective.
If your inner Pixie quails at the mere mention of not getting your cheater a gift, don't agonize over it - I'd rather you spent 5 minutes getting your cheater a small, inexpensive, neutral gift, than stressing yourself out over what is the 'right' thing to do. It's honestly not that important.
Have a holly, jolly Christmas and a cup of cheer!
(*Services and products in this article have been included for entertainment purposes only. IHG does not endorse any product or service in this list and does not encourage or condone harassment, intimidation, or other legal violations of any kind. )