IHG's Top Ten Cheater Gifts
A seasonal question was posed in our forum last week: "What do you get a cheater for Christmas?"
Giving a cheater a gift for Christmas isn't something I recommend, but I understand that some people (Pixies particularly) might have other ideas.
So, the ever-helpful IHG community got together to make some suggestions for some gifts they think might be suitable to give to a cheater this Christmas, and then voted for their favorites.
So, if you're looking for some last minute gift ideas, these are the most popular suggestions from the IHG community:
10th Place Tie
the Sing-a-Long-a-Christmas-Poo album
the Mug of Truth
the lovingly crafted, hand-embroidered keepsake
some chunks of dead unicorn in a can

9. Cheater Hat of Truth
IHG advocates authenticity in general terms, and specifically in our dealings with cheaters.
So if the cheater-hat fits …
All we need is one that declares, "Ho, ho, ho!" and someone who might fit that hat too. You could probably find that very person standing right beside your cheater. Who knew?!
 8. The Rollie
Do you have a cheater who loves kitchen gadgets? Say Merry Christmas with a limp, drooping tube of disgusting …
7. Poopsenders
Ahh, the poetry of it all at Poopsenders. This year, maybe say Merry Christmas to your cheater with a steaming turd. It should make them feel quite at home.
You can even select the particular variety of dung that you feel best suits your purposes. And your purposes would be just a gag, right? A gag-Christmas-gift, of course. For the cheater with the well-developed sense of humor.
Oh and don't forget to laugh. It's a joke, after all!*
6. All-Occasion T-Shirt
Instead of the seasonal ugly Christmas sweater or Sexy Santa lingerie, why not give them something that they can wear proudly in public all year long?
5. Cheater Safe
What a thoughtful gift! Since your cheater might be staying in some dodgy motels and hanging out with people of seriously dubious character, why not give them somewhere safe to stash their cash? Just in case.
And if it communicates, "The shit-stain reminds me of you," just remember that we were going for authenticity, so that's entirely okay. Add a cheery Merry Christmas and feel awesome about the power of giving.
4. Fart by Mail
How convenient for those of you who prefer to shop by mail order!

3. Divorce and all the Trimmings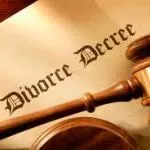 Nothing says Merry Christmas and a Happy New Year better than a well-timed divorce petition, even if you can't actually persuade Santa to leave it under the tree for a special morning surprise.
Top it off with humming merrily to yourself as you plan your new life in your new home with your newly cheater-absent family. Oh, 'tis the season to be jolly! You can tra-la-la-la-la the whole day through!
And if your Cheater-Grinch glowers and growls, you could maybe hum the, "I saw Mommy kissing Santa Claus" tune -with chirpy Christmas happiness, of course- and see if that cheers them up?
2. Mug of Helpfulness?
It would be rude not to point it out, right? After all, it's the season of goodwill and all that.
So, being the slaves to kindness and authenticity as we are, this year why not get your cheater a mug to help remind them to wipe the bullshit from their mouths once they've stopped spouting it? (Or at least, when they have paused to take a breath between their projectile bullshit spewing, because I am not sure it actually ever 'stops'.)
1. IHG's Top Voted Gift Idea: Nothing!
This is our number one gift suggestion: Not A Damn Thing. Merry Christmas!
For those of you who share our thinking that giving a cheater a gift is inauthentic and probably highly manipulative (our suggestions excluded, of course  😀  ), the huge lump of Fuck All that will meet your cheater under the tree says it all.
In case you feel the message needs to be underlined by gift wrap and a bow on top, we did source these versions of the Gift of Fuck All at IWoot and Amazon …
What a generous way to say, "Merry Christmas, Fucktard! You didn't even merit the t-shirt!"
I hope you enjoy your holiday shopping!
(*Services and products in this article have been included for entertainment purposes only. IHG does not endorse any product or service in this list and does not encourage or condone harassment, intimidation, or other legal violations of any kind. )